Carib Soul (UK) & Sabroso (AT) w/ Del 'Raetownman' Robinson, Michael Daniel, Boutros B, Ach
Details
Carib Soul meets Sabroso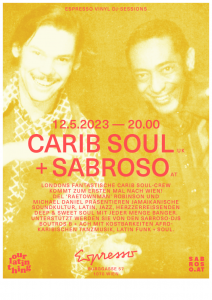 Fr 12.05.2023 — 20:00
ESPRESSO BURGGASSE
Burggasse 57, 1070 Wien
Londons fantastische CARIB SOUL-Crew kommt zum ersten Mal nach Wien! Del 'Raetownman' Robinson und Michael Daniel präsentieren jamaikanische Soundkultur, Latin, Jazz, herzzerreißenden Deep & Sweet Soul mit jeder Menge Banger. Unterstützt werden sie von den Sabroso-Djs Boutros B + Ach mit Kostbarkeiten afro-karibischen Tanzmusik, Latin Funk, Brazil + Soul.
Und tags darauf geht es gleich weiter!
"50 years of soul – a birthday bash", One Party the whole day!
Saturday, 13th of may
3pm chillin in the sun at the Kiosk Karlsplatz
9pm dancin in the dark at the Club U
All styles of RARE SOUL MUSIC non stop provided from the best DJ´s around
w/ CARIB SOUL
Soul & Reggae? Sweet!! London's fantastic CARIB SOUL crew join us for the first time in Vienna for an unforgettable showcase of their behemoth taste in rare soul music and unique delivery blending jamaican selector style DJ'ing with rare soul bombs galore.
Del 'Raetownman' Robinson and Michael Daniel will present Jamaican sound culture, Latin, Jazz, heart wrenching tear jerking deep & sweet Soul with plenty of bangers. Pull Up!
w/ LARS BULNHEIM
Lars is truly a legend: not just only a top-notch collector or an incessantly searcher for unknown tunes, in the scene exists the common idiom "a bulnheim find", but also a blessed DJ, spinning his unique collection since the eighties all over europe, the UK and even Northern America.
Though his musical focus is on 70s soul, excursions into the 60s are a natural part of his set. His magic touch in the selection of tunes and his feeling for the dancefloor guarantee exactly what a soul fan could wish for: danceable, stirring and soulful music!"
w/ RAYNA
When it comes to original Reggae, Rocksteady & Ska in Vienna, your number 1 is this man. The deepest and most soulful journey into jamaican music is promised. The so called 'finest selection of jamaican music' is getting real.
Support: DJ Tesar, DJ Kolar
13 hours of Rare Soul Music!