Upcoming shows, on Radio ORANGE 94.0
Sunday, May 15, 2022, 14:00-14-57 CET: Esto Es Sabor
Lessons in Afro-Cuban Power & Elegance. Compiled by Ach.
Previous shows (selection):
Sunday, March 20, 2022, 14:00-14-57 CET: Latin Go Go – 1960s Latin Dance Madness
Boogalu, shingaling, jala-jala, afro-twist, descarga & more compiled from original 7-inch singles by Ach. Issued by Lables Sono Radio (Peru), Disques Vogue (France), Cotique (NYC), Fania (NYC), Dinsa (Peru), Alegre (NYC), Fonseca (NYC), Odeon (Peru), Virrey (Peru), Mary Lou (NYC), Speed (NYC) between 1965-1969.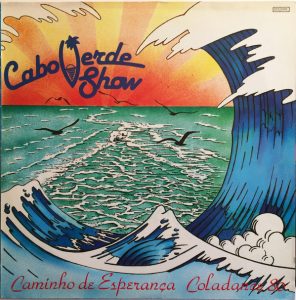 Sunday, March 06, 2022, 14:00-14-57 CET: My Lucid Summer
Compiled by Ach — The perfect soundtrack to dance on the sunny side of life. — A lucid summer evoked with handpicked music from Cabo Verde, Haiti, Martinique, California, Peru, Cuba, Brazil, The Netherlands, ST. Lucia, Mexico, Guadeloupe recorded between 1970 and 2020. Compiled by Ach (Sabroso Vienna/My Latin Thing Vienna).
Style: Tropical, Cadance, Salsa, Coladeira, Cumbia, Afro-Cuban, Latin-Funk.
Full playlist with cover art works
Sunday, December 2nd, 2022, 14:00-14:57 CET: "Our Latin Thing" Grooves aus Achs Jukebox.
Ein neuer Mix mit Salsa Dura aus den 1970ern von den Labels Alegre, Cotique, Criollo, Fania, Inca, Karen, Libra, Mas Records, Neos, Vaya.
Styles: Salsa Dura, Guauganco, Guaracha, Son Montuno, Latin-Jazz
Sunday, December 19th, 2021, 14:00-14:57 CET: BOOGALOO IST MEIN LIEBLINGSTIER
Eine explosive Mischung von 1950er und 1960er 7-inches mit exquisiten Draufgabe aus den 1970ern. Originalaufnahmen aus den beiden Amerikas von den Labels Alegre, Ansonia, Atco, Caliente, Columbia, Fania, Fonseca, Fuentes, Gema, GNP, Philips, Puchito, RCA, Seeco, Sono Radio, Tico. Styles: Afro-Cuban, Mambo, Boogaloo, Cumbia, Latin-Jazz
Sunday, September 5th, 2021, 14:00-14:57 CET: IN THE SPIRIT – COMPLETE THE CIRCLE
Tracks by Lloyd McNeill; William Parker; Amadou Balaké; Oneness of Juju; Francisco Mora; Kahil El'Zabar's Spirit ft. David Murray. Tracklist + Listening on demand via mixcloud
In March of the first year of the COVID-19 pandemic, Achs Saturday Jazz at The Filmbar Club was closed, as were all the other nightclubs in Vienna. Until today it has not been able to reopen. It looks like the year will be over without the Saturday Jazz DJs being able to play their brilliant selection of music at the Filmbar. Therefore, starting on November 21st 2020, every first and third Sunday of the month, we will play a one-hour part of the 12-hour dj-set by Ach 12-hour on Radio Orange. Alexander Ach Schuh presented this set especially in summer 2020 for the days when the Filmbar temporarily reopened as a café with limited opening hours.
For Listening o demand, tracklists with cover artworks go to https://sabroso.at/mixes/
MUSIC FOR DREAMDANCERS — 12 hour DJ-set  w/ Ach for the Filmbar Jazz Café in Summer 2020
Sunday, February 7th, 2021, 14:00-14:57 CET: MUSIC FOR DREAMDANCERS — Filmbar Jazz / 7th hour
The seventh hour features music by Vikings Guadeloupe; Carlos Garnett; Kat-Tèt; Bobby Hutcherson; Duke Pearson feat. Flora Purim; Kenny Barron; Patato Valdés; Marcel Louis Joseph; Nathan Davis; Earl Moseley.
Sunday, February 21th, 2021, 14:00-14:57 CET: MUSIC FOR DREAMDANCERS — Filmbar Jazz / 8th hour
The eight hour features music by Chico Freeman; Bob Stewart; Rip, Rig + Panic; Maria Joao Quintet; Rob Burger; John Stubbleflield; Kimiko Kasai; Jerry Gonzalez.
Sunday, March 7th, 2021, 14:00-14:57 CET: MUSIC FOR DREAMDANCERS — Filmbar Jazz / 9th hour
The ninht hour features music by Bobby Jackson; David Newman; The Lightmen Plus One; Albert Heath; Yasuko Love-Bird; Big John Patton; Quartette Tres Bien; Joe Farrell; Dianne Reeves.
Sunday, March 21st, 2021, 14:00-14:57 CET: MUSIC FOR DREAMDANCERS — Filmbar Jazz / 10th hour
The tenth hour features music by Eddie Palmieri; Rosalia De Souza; Adriana feat. The Five Corners Quintet; Bobbi Humphrey; Ocho Rios; Wendell Harrison & Phillip Ranelin; Art Blakey and The Jazz Messengers; Charles Rouse; John Santos & The Machete Ensemble; Trio Da Paz; Mario Rom's Interzone.
Sunday, April 4th, 2021, 14:00-14:57 CET: MUSIC FOR DREAMDANCERS — Filmbar Jazz / 11th hour
The eleventh hour features music by Taxi; Nat Adderley Septet; Kenny Barron; Donald Byrd; Miles Davis; Chris Washburne And The Syotos Band; Coke Escovedo; Ismael Quintana y Ricardo Marrero & The Group; Leroy Hutson; Gene Lawrence.
Sunday, April 18th, 2021, 14:00-14:57 CET: MUSIC FOR DREAMDANCERS — Filmbar Jazz / 12th hour
This final part and twelfth hour of this special series features music by Azar Lawrence; Wayne Shorter; Bobby Matos; Mario Rom's INTERZONE; Sam Rivers; Noriko Miyamoto with Isao Suzuki; Marc Steckar; Papo Vazquez Mighty Pirates Troubadours; Kimiko Kasai; Sonny Rollins.
………..
Listen to the previous shows + upfront playlist incl. pics of record lables/coverartworks
………..
You can listen to "Ich bin ein ganz normaler Tag" every 1st and 3rd Sunday of the Month 2-3 PM (CET). Broadcast since 2002 on ORANGE 94.0 Vienna's first 'Freies Radio'/Community Radio, 57 minutes. Categories: Glamours Music for a Sunday afternoon.
Current broadcasts and a selection of shows can be found at Sabroso Vienna Mixes (streaming on demand via mixcloud). There is even more of the older shows to discover via play.fm.
Vienna, Austria 94.0 fm http://o94.at/
Worldwide stream http://o94.at/live/