Sabor de Cuba in the Salsa Explosion of NYC in the 1970s
Details
Latin Rare Grooves #3 — Strictly Vinyl. Strictly 45s.
Enjoy Episode 3 of my Salsa Classic vinyl sessions: 15 outstanding tracks with a lot of sabor de Cuba from the musical melting pot of New York's 1970s. Although all tracks were produced in NYC, they are all deeply inspired by Afro-Cuban tradition: Cuban soul with TUMBAO and CLAVE. Some of the tracks are written by legendary Cuban composers like Arsenio Rodriguez, Luis Griñan, Rudy Calzado, Juan Formell, Israel "Cachao" Lopez, others were originally made famous by Cuban bands. All tracks have a special Cuban flavour, all have Cuban roots, all were released between 1971 and 1980. Some tracks have a more traditional charanga style, others are pure latin rock. From about 1973/1974 the NYC record label Fania started to promote the very different performances of Afro-Caribbean and Afro-Cuban music under the general title "Salsa". The 15 singles gathered here are therefore also an homage of NYC's salsa to the Afro-Cuban roots of the music. An homage, however, which can be danced very well.
Enjoy great voices, sparkling arrangements, outstanding soloists, driven by Afro-Caribbean percussion. All tracks released between 1971 and 1979, mainly in New York City by labels like Fania, Inca, Vaya, Coco, Mericana, Montuno, Salsoul, Tico, TR-Records and UA Latino.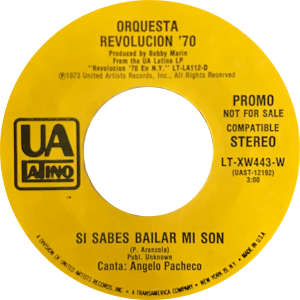 (1) Orquesta Revolución '70; SI SABES BAILAR MI SON (P. Aranzola) (03:04); 7″ UA Latino LT-XW433-W. Vocals Angelo Pacheco (1973)
(2) Lou Perez; TUMBA, BONGO Y CLAVES (Lou Perez) (03:59); 7" Tico T-665-A (1977)
(3) Chino y su Conjunto Melao; SAN MIGUEL – SAN ANTON (Pablo Canti) (04:58); 7″ TR Records T120 -A. Vocals: Pablo Canti (1975)

(4) Libre; DONNA LEE / A GOZAR BAILAR (Charlie Parker / Manny Oquendo, Andy Gonzalez) (04:03); 7″ Salsoul S-8720 (1976)

(5) Celia Cruz – Johnny Pacheco; EL BAJIO (J. Fumero – A. Castro) (04:59); 7″ Vaya V-5167-A (1979)

(6) Willie Rosario; EL BAYAMON (Miguel "Meñique" Barcasnegras) (03:43); 7″ Inca 6042-A. Vocals: Chamaco Rivera (1972)

(7) Eddie Palmieri; VIEJO SOCARRON (Luis Griñan) (03:42); 7″ Tico T-581 (1971)

(8) Sonora Ponceña; OMELE (03:14); 7″ Inca 6107-B. Vocals: Luigy Texidor (1977)

(9) Tipica 73; LA CANDELA (Juan Formell) (04:07); 7″ Inca 6090-A. Vocals: Adalberto Santiago (1975?)

(10) Charlie Palmieri; MARACAIBO ORIENTAL (J. A. Castananedo) (03:25); 7″ Coco CFF5025-B. Vocals: Victor Velazquez (1974)

(11) Rey Roig y Su Sensacion; PEDRO, CANDELA (René P. Lierandi) (03:40); 7″ Mericana M-7163-A (1974)
(12) Fania All Stars; CHANCHULLO (Israel "Cachao" López) (03:16); 7″ Fania 711-A (1974)
(13) Orchestra Harlow; EL MIRI MIRON (03:42); 7″ Fania 751. Vocals: Junior Gonzalez (1975)
(14) Armando Sanchez y Su Conjunto Son De La Loma; Y YO GANGA (Rudy Calzado) (04:03); 7″ Montuno 45-0580-A (1980)

(15) Orchestra Harlow; SUELTALA (Arsenio Rodrguez) (03:34); 7″ Fania 577-B (1971)