date 19.05.2020
shows / djs Ach
CARNAVAL EN NOUS — FRENCH CARIBBEAN 1970s 7" MIX
Details
Styles: Tumbélés, Biguines, Cadances, Calypso, Selected by Ach.
Rare and tasty music from Alexander Ach Schuh's 7-inch Tropcial record collection.
1970s French-Caribbean music in the mix. Enjoy the very typical sound of Les Guitar-Boys, Les Rapaces, Star Combo, Jacques Bracmord, Les Vickings, The Tipical Combo, The Tipical Singer and Les Amis Des Ondes released on the Caribbean lables Aux Ondes, Disques Debs, Hit Parade and Duli Disc.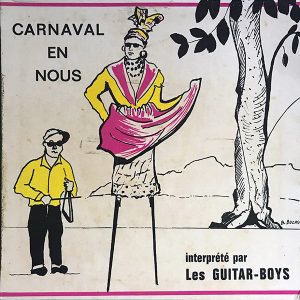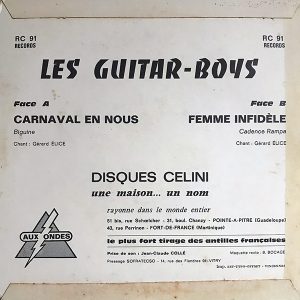 (1) Les Guitar-Boys; CARNAVAL EN NOUS (5:10); 7″ Aux Ondes RC 91-B

(2) Typical Combo; NOUS TYPICAL (G. Planquitte) (3:58); 7″ Duli Disc JD 116-B

(3) Jacques Bracmord. Accompagné par Les Maxel's; LA GROSSE POUPÉE (Jacques Bracmord ) (4:37); 7″ Aux Ondes RC 69

(4) Les Rapaces; MPULI MAN MUNI (4:53); 7″ Aux Ondes RC 83-A
 
(5) Star Combo; STAR COMBO ENDIABLE (4:59); 7″ Aux Ondes, Celini  C 1011-B

(6) Les Amis Des Ondes; NHONME A BOURRETTE LA (3:29); 7″ Aux Ondes RC 71-B

(7) Les Vickings; VAGABOND (3:47); 7″ Disques Debs 45DD308-B
(8) Typical Singer; DESOLATION (George Verres) (4:02); 7″ Hit Parade GR 111-A
(9) Star Combo; BANNAN' ET PALOUD (4:56); 7″ Disques Debs 45DD308-A
(10) Les Rapaces; CHIRIKI CUMBÉ (4:40); 7″ Aux Ondes RC 83-B

(11) Les Guitar-Boys; MONA (Liber Gentille) (3:25); 7″ Aux Ondes RC 100-A
(12) Typical Combo; PAS COURI (G. Planquitte) (5:36); 7″ Duli Disc JD 116-A
(13) Les Guitar-Boys; FEMME INFIDELE (4:36); 7″ Aux Ondes RC 91-B